9 Important Things to Know About Cannabidiol (CBD)
CBD has grown extremely popular over the last few years. But, if you're new to the world of CBD, it can quickly become very confusing navigating all the different terms and facts about this healing plant. 
That's why we've put together this quick guide outlining the 10 most important things you to know about CBD so you can shop with confidence. 
---
#1 

CBD IS DERIVED FROM THE HEMP PLANT
To best understand the difference between cannabis, hemp and marijuana plants, it's best to review some plant genealogy. Cannabis is the plant genus or family for both the hemp and marijuana plants. CBD oil is derived from the hemp plant and contains 0.3% or less THC content. The confusion arises because technically both plants are part of the cannabis family and in recent years, the term "marijuana" has also become interchangeable with the term "cannabis".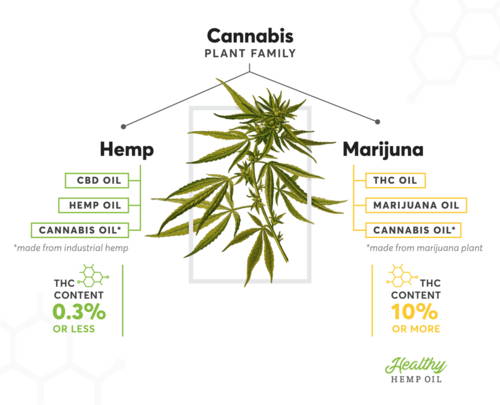 #2 

CBD STANDS FOR CANNABIDIOL
CBD stands for Cannabidiol, the most prevalent active component of the hemp plant and the second most prevalent active component of the marijuana plant. THC is the most prevalent active compound in the marijuana plant. This is not to be confused with cannabinoid, which is the term representing the 100+ active chemical compounds found naturally in cannabis plants. CBD (Cannabidiol) and THC (Tetrahydrocannabinol) are just two types of cannabinoids. 
#3 

CBD INTERACTS WITH YOUR BODY'S ENDOCANNABINOID SYSTEM
The endocannabinoid system (ECS) is a complex structure of receptors in your nervous system that interacts with cannabinoids, including CBD. The ECS's most important function is that it continuously seeks homeostasis or balance among your body's various systems. 
#4 

CBD WON'T GET YOU HIGH
THC will get you high. CBD won't. While both THC and CBD are cannabinoids, CBD mainly interacts with receptors located throughout your body so you never feel a psycho-active effect from consuming CBD. THC, on the other hand, interacts with receptors both in your brain and your body, resulting in a "high".
#5 

CBD IS FEDERALLY LEGAL
The 2018 Farm Bill removed hemp from the Controlled Substances Act and made hemp federally legal in all 50 states. In turn, this also made hemp-derived products, containing less than the legal 0.3% THC content legal as well. It's important to note, however, that the Farm Bill did not bar states from regulating the production of hemp or limit them from enforcing laws stricter than the farm bill. 
#6 

CBD OIL IS

 

NOT THE SAME

 

AS HEMP OIL
CBD oil is extracted from cannabis plants and is oftentimes combined with a carrier or oil such as olive, coconut or MCT oil. CBD oil also contains cannabidiol. Hemp oil, on the other hand, is extracted from the seeds of the hemp plant and should not contain any CBD or other cannabinoids.
#7 

CBD IS SAFE

 

+

 

NON-HABIT FORMING
In 2017, the World Health Organization issued a statement proclaiming that "in humans, CBD exhibits no effects indicative of any abuse or dependence potential…. CBD is generally well tolerated with a good safety profile." 
The FDA, however, has not yet issued any formal statements on CBD's safety. CBD also remains unregulated by the FDA. When you are shopping for CBD products, we recommend always reviewing or requesting to see a company's third-party lab results to make sure you are receiving the cleanest products possible. 
#8 

CBD HAS MANY DIFFERENT BENEFITS
Studies have shown that CBD may have a variety of health benefits and may be effective in providing relief for a variety of health concerns. Some benefits may include: 
Anti-anxiety
Anti-oxidant
Anti-cancer
Anti-bacterial
Heart-healthy
Anti-inflammatory
Furthermore, the World Health Organization recognized in 2017 that "CBD has been demonstrated as an effective treatment of epilepsy in several clinical trials. There is also preliminary evidence that CBD may be a useful treatment for several other medical conditions."  
#9 

THERE ARE 3 WAYS TO USE CBD
There are many different ways to use CBD, but the main forms of consumption or application are vapor, orally or topically. 
CBD oil may be smoked through vaporizers or vape pens. When vaped, the effects of CBD have an almost immediate onset. 
CBD may also be taken orally or sublingually through tinctures. Some companies are even combining CBD with various food items and beverages. 
When used topically, CBD's benefits are localized to the area of application. Seven combines CBD with high-quality natural ingredients for topical skin relief.